Ref:
Date:
Location:
Photographer:
Ref:
Date:
Location:
Photographer:
This blog is random and meant to give you an idea of the place from time to time.
Click here
if you would like to send us a response.
Friends art day
20/11/18
Two former art students had a meet up in Cornwall and did a stonecarving workshop together.
Work experience
20/07/18
A work experience student came to help out and did some stonecarving with Baz.
Break from the day job
21/11/17
An anaesthetist took time out to enjoy a couple of days stonecarving.
All the way from Australia
15/10/17
Tim was visiting family nearby and learnt enough techniques to get started on his return home.
All for animals
18/09/17
Locally based couple who are keen animal lovers enjoyed a day in the workshop.
Summer treat
15/08/17
Two friends had a great day in the workshop. One made this narwhal and the other a stone with a spiral.
Having some fun
10/10/16
A businessman from Norfolk, planning on retiring, took time for himself to get started on something creative and having some fun.
Holiday couple
22/08/16
Pippa and Adam enjoyed a creative day on their holiday, working on stone for the first time.
An excellent gift
19/07/16
Enjoying a gift of a stone carving course Jane made a soapstone owl for her garden.
Birthday present
11/11/15
A London couple celebrated a birthday with a day in the workshop. He made an excellent start on this head in alabaster while she finished a small owl relief.
Return of the artist
24/07/15
Sue left teaching and has returned to her art. She is particularly interested in sculpture and ceramics.
Spring break
27/03/15
This London couple made time for a short break to Cornwall and enjoyed doing an activity together.
It's raining
04/11/14
What to do on holiday in the rain? A couple from Leeds, on holiday from their professional jobs, took advantage of a wet day to enjoy carving in the warm workshop.
Summer romance
01/09/14
Newly wed, this couple worked together on making a slate relief of a sunflower motif which they had used throughout their wedding ceremony.
Family fun
21/06/14
On a fabulous summer's day a couple with a son had an enjoyable day's carving. Between them they made a scarab, a relief of a boar, and this snake.
Walrus
01/05/14
To celebrate a birthday, two friends came on a course. The birthday boy made this wonderful walrus.
Inspirational trip
30/09/13
Baz picked up lots of inspirational ideas on a visit to western Canada
Staying at the Cove Hotel
31/08/13
We had a visitor from the Lamorna Cove Hotel who made this ram with Baz.
Workshop makeover
17/08/13
After 13 years the workshop gets a new coat of paint and a sort out.
Hamburg visitor
08/07/13
Lore Otto carved a large ammonite in alabaster on a 3 day visit whilst on holiday with husband and son.
Open Studio
25/05/13
Students showed work again at our exhibition as part of Cornwall Open Studios.
Workshop day
17/12/12
A few students met up to have an enjoyable and inspiring refresher day.
Gilly's bird
20/10/12
A bird bath in alabaster with a dolphin bone detail was created by Gilly.
Fish carving
10/09/12
A few days carving and some help from Baz and Sheena from Devon produced an alabaster fish.
Trying something new
15/08/12
New to the area Stuart came for a day's carving with Baz.
Holiday break in Lamorna
25/07/12
The Collier family from Harrowgate, and their dog, came up the road from their holiday cottage for an enjoyable day's carving in glorious sunshine.
Time out for friends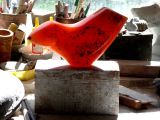 10/07/12
Old friends, Linda and Karen, living in different parts of the UK, met up again to have some fun. They both made terrific pieces including this bird in alabaster.
Couple's day out
07/06/12
Robin and Brenda often attend a course or an activity together. They enjoyed stonecarving here in Lamorna because of their interest in the local standing stones known as the Merry Maidens.
Open Studios 2012
31/05/12
Open again we had a successful and enjoyable open studios.
Spring treat
12/03/12
Thanks to her husband, Nikki had a day free from home education to reconnect with her own artistic career.
New beginnings
10/01/12
Luke came for a week to add a new skill to his existing artistic talents. He made several pieces including this hawk.
Mother & daughter team
14/10/11
Lovers of sculpture & ceramics these two loved the hands on experience of stonecarving & having a good day out together.
Time out for busy people
10/09/11
Business owners and parents took a couple of days out from their busy lives & had fun trying something new.
04/08/11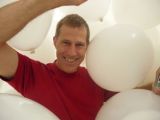 02/07/11
06/06/11
Fish for a pond
02/05/11
The confident efforts of a student on a three day course resulted in a magnificent fish for a pond in Oxfordshire.
Early spring sun
04/04/11
Fantastic weather enabled mother & daughter to enjoy a polishing session outside the workshop.
Alabaster bird
10/03/11
Penzance woman who had never tried stonecarving before was happy to find her bird carving was enhanced by the flowing lines in the stone.
Bone necklace
13/02/11
Fiona & Danny from Devon, on a visit to Cornwall, decided to work in bone, & produced finished pieces in a day.
New Year fun
28/12/10
Seeing the old year out, a few of our stonecarvers turned up on the same day for some carving and some fun. Happy New Year.
Preparing for college
15/12/10
Ruby from London joined us for a weekend's carving as preparation for applying to a London sculpture school. This gave her an opportunity to find out if working in stone was for her.
Easter Island
15/11/10
Making a small Easter Island type head as one of the items over two days, gave Lynford an opportunity to try stonecarving for the first time.
Walking sticks
23/10/10
Viv came with her husband Bob and she created an alabaster topped walking stick. There are a range of wood sticks to choose from and is a talking piece for the future.
Working together
27/09/10
This bear was a joint effort between student and tutor. Finding the right stone for the work makes for a successful project.
A summer retreat
15/08/10
One of our summer students. Staying locally on a holiday visit to Cornwall, students find stonecarving inspiring and enjoyable.
Handaxes by hand & stone
16/07/10
Graham Hill (01736 330117) paid another visit to show us the handaxes he makes from diorite pebbles, using only another stone & corroded granite. He then incises a drawing using flint. Using this method, the image here is entitled 'AirWar', and took about 20 hours to make.
Third visit
20/06/10
Richard came back for a third visit. Working on a large block of Portland stone he started making a bird bath for his garden in Cumbria. Here Stephane, who comes regularly to carve, gives some advice.
Better than working
17/05/10
BT manager, Roger Roberts, found a week's carving relaxing and restorative. Being absorbed in making something helps balance a busy working life.
All the way from Brazil
04/05/10
Jacqueline Giovannini is a Brazilian artist. On this her first visit to the UK, she wanted to learn the basic methods of stonecarving so she could teach young people back home.
Birthday bliss
26/04/10
Tim's family booked 2 days carving as a birthday present for him. Someone, like Tim, who is open and ready for new experience, can enjoy having a go at stonecarving.
Encouraging creativity
16/04/10
A father brought his son for a few days carving, giving him the time and space to come up with his own creative ideas and interact with others. This kind of creative encouragement is at the heart of the Steiner School which the boy attends.
A different day out
20/03/10
Father & son-in-law, Steve and Andrew enjoyed a day with a different pace. With demanding and stressful jobs a day doing something completely different is a good way to relax.
Christmas present
12/02/10
We had a local woman, Mary, for a day's carving & she was very complementary - "A day with Baz and Maureen has to be one of the best Christmas presents my husband has ever bought me. Truly inspiring."
Interest in shamanism
16/11/09
A number of students, with an interest in shamanism, come along to carve personal items for use in rituals, such as this pipe in progress.
Inspired use
29/10/09
Australian student, Tim, made an abstract piece in serpentine. Already gifted in turning wood he returned home and made a complementary bowl, creating a great personalised pestle and mortar.
European interest
01/10/09
We've had visitors from America, Australia, and Europe this summer. This couple from Switzerland and Romania were on holiday in St Ives and came over for an enjoyable day's carving.
Philly to Penzance
02/09/09
Janeen & Ilona from Philadelphia, stopped off on their short tour of Britain, to try their hand at carving. They came on the coldest, wettest day of the summer so it was the perfect thing to do.
Ready Kids!
01/08/09
These two from London came with their parents for a day & were ready for anything. Dad came from Toussaint, Arizona, and so the family made some great little fetish pieces.
Cycladic head
20/07/09
Richard, who came last summer, returned to focus on making heads. Here he is with a cycladic head (Cycladic art from islands in the Aegean circa 2500BC).
Working on your own style
07/07/09
From time to time we have artists attending workshops who come to have time out from their usual medium and experiment with stone. Barbara Karn visited recently and whilst she mainly paints animals she also likes to work in 3D.
Group visit
27/06/09
A group of students from Gloucester Girls School came for a demonstration. In common with most young people they showed no fear or hesitation in tackling a piece of stone.
Holed stone
15/06/09
We had a visit from Graham Hill who has been working along the road, making a hole in a large piece of granite, using nothing but hand tools made of stone. Graham has researched how holes were made in various types of stone and with a variety of stone tools across the UK.
Open Studio
31/05/09
Visitors to the Open Studio event made a positive response to the stonecarvings. With lots of Inuit and Celtic references the sculpture was new and educational to many viewers. Of course, there was plenty of entertainment too.
Stone poetry
17/05/09
'There is a shape/ Defined by space/ And hidden by the folds of time/ Whose form describes/ To inner eyes/ a universal depth of line...' By Chris Gardner, a student.
Picnic in Mousehole
09/05/09
Went down to Mousehole for a lunchtime picnic with students. Sometimes a break like this can generate new ideas or solutions.
Magical dust
27/04/09
Gary came for carving having already some idea from trying it before. He brought a little magic with his stories of a rich life lived on the road. Students always bring another slice of life.
Easter relief
13/04/09
Our guest at Easter made this lovely relief in soapstone. Never having tried carving before it took concentration and determination to achieve. The sun came out and put us all in holiday mood.
Soapstone supplies
26/03/09
New supplies of soapstone delivered this week. Exciting possibilities. Baz has already carved out a bear. The supplier was 'Great Art' which has a vast range of art supplies. Check them out at www.greatart.co.uk.
Wood to stone
17/03/09
Experienced woodcarver and woodturner, Peter Davey, attended a course, and overcame his fear of working in stone. He spent the day working with a range of stones; those that cut like wood e.g. soapstone, and harder composites such as granite.
Monmouth visit

05/03/09
We had a great weekend, courtesy of John & Sue Exton, in Monmouth. John heads up the art department at Monmouth School for boys, and together with Sue, an art teacher there, Baz ran workshops for the boys. They made carvings that the boys will enter for GCSE and A level work. John and Sue are terrific promoters of artists from Cornwall and have for many years organised workshops in Cornwall for the boys. Contact us for details.
French connection
26/02/09
Dad and daughter, David and Amber, from Provence, came for a days carving while they were staying in the area. They produced a walrus head and a fish. We had a gambol round the Merry Maidens with them and a fish and chip supper in Mousehole.